The Maritime Executive: Interview with Todd Nestel, President of W&O Supply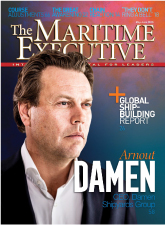 Click here to view article
May/June, 2020
By Jack O'Connell
Nestel is leading W&O's evolution from a reliable supplier of pipes, valves and fittings to a provider of complete technical solutions. 
TELL US ABOUT YOURSELF. WHERE DID YOU GROW UP?
I was born and raised in Lancaster County, Pennsylvania but spent my summers on the Chesapeake Bay near the small town of North East, Maryland. My brother and I spent every waking moment of the summer on a boat, whether fishing, crabbing, water­skiing, sailing, windsurfing or just hanging out with family and friends. My first job was at a marina, before I had a driver's license, so I was able to commute to work by boat. It was those summers at the bay where I grew to love being on the water.
IS THAT WHAT LED YOU TO KINGS POINT?
Yes. I grew up watching ships, tugs, barges and yachts going up and down the bay. I knew I wanted a career in the maritime industry, originally to be a naval architect, which led me to the U.S. Merchant Marine Academy at King's Point. It was a great experience that brought me into a great industry and has led to lifelong friendships and a rewarding career.
WHEN DID YOU JOIN W&O?
I started to learn about the company and the direction it was heading nine years ago from the existing management team. W&O was evolving from a traditional distributor of pipe, valves and fittings toward more of a technical solutions provider. It was looking for someone to come in and help grow the Engineered Solutions group. I always enjoy a challenge and working on projects that have the potential to grow at 20 percent or more a year, and this looked like one of those opportunities. So, I joined W&O in October of 2011.
TELL US ABOUT YOUR CAREER THERE. WHEN DID YOU BECOME PRESIDENT?
I started with the Engineered Solutions group. Traditionally an $8-10 million piece of the business, we grew it to $40 million by having the entire organization focus on it and expanding our offerings into ballast water treatment systems, pumps, LNG cryogenic piping systems and enhanced service capabilities. From there I took on other roles and was fortunate enough to spend a year in our San Diego branch, which is heavily focused on navy repair and new construction. This was a great experience, enabling me to work closely with some of our largest customers and being on the front lines at a branch operation. It gave me a unique perspective that I continue to draw on today. I returned to our corporate office in Jacksonville and shortly thereafter, in July of last year, was appointed President. 
WHAT DOES W&O DO?
W&O is a leading global distributor of valves, actuated valves, fittings, pipe and engineered solutions to the maritime and upstream oil and gas industries. While dis­tribution of these products is still our core, we are evolving into more of a technical solutions provider to give our customers the best value.
WHAT DO THE INITIALS "W" AND "O" STAND FOR?
The company was founded in 1968 by Herb Goelz in Jacksonville to provide various ship supplies such as pipe, valves and fittings along with anything else his customers wanted and he could source. In 1975, Goelz bought W&O and retained the name of the original founders Bill Weedon and Percy Oberman, the names behind the letters.
HOW MANY OFFICES AND EMPLOYEES ARE THERE?
The W&O has 17 locations - 13 in the U.S., two in Canada, one in Europe (the Netherlands) and one in Singapore. We have about 350 employees.
WHO OWNS W&O TODAY? IS IT PUBLICLY TRADED?
Pon acquired W&O in 1999. Pon is a large, privately held, family-run business in the Netherlands. It has over 12,000 employees in 27 countries. We're very fortunate to have Pon as our owner. They have deep roots in the maritime industry and own many maritime companies including The Hiller Companies, Pon Power, Radio Holland, Bakker Sliedrect and Bolier - to name a few. They also promote a family atmosphere and management style, which really resonates with our employees.
WHAT MARKETS DO YOU SERVE?
We serve the entire maritime market - any­ thing that floats is in our wheelhouse. About 50 percent of our business is government-re­lated including the U.S. Navy, Military Sealift Command and U.S. Coast Guard, providing products primarily to shipyards and contractors. The other 50 percent is commercial work with global shipping companies, shipyards, inland waterway operators, cruise lines, ferries, contractors, upstream oil and gas, dredging, yachts and commercial fishing.
CAN YOU TELL US ABOUT REVENUES? ARE YOU THE BIGGEST IN THE BUSINESS?
We're certainly the largest in North America, and we believe we're one of the largest globally. W&O has grown to over $200 million in annual revenue. While we're the largest in North America, the exciting opportunity lies in our continued growth outside North America - in Europe and Asia. Our European operation, based in the Netherlands, has really grown over the past decade under the leadership of Managing Director Kristof Adam and his team. Eu­ropean customers are starting to see W&O as more than just a valve distributor but as a technical solutions provider with great project management capabilities.
WHAT IS YOUR BIGGEST CHALLENGE RIGHT NOW?
It goes without saying- the COVID-19 pandemic - and not just for us but for our OEMs and customers as well. We've been fortunate in that the majority of our business has remained strong. We immediately put a number of measures in place to, first and foremost, make the safety of our employees the top priority while still allowing us to serve customers. All of our branches have been able to stay open throughout this crisis, and we've been fortunate to allow close to 50 percent of employees to work from home with little or no impact on their function or produc­tivity. Everyone stepped up to meet the challenge of working through this crisis and supporting our customers without interruption. We also have a very skilled IT group who, prior to the crisis, had built an infrastructure that could support working remotely in a seamless way.
From the start we had many manufac­turers in Asia impacted with delays of two or more months, which then extended to some manufacturers in Europe and North America. Fortunately, the combination of our strong working relationships with OEMs and our $60 million+ in inventory has allowed us to support our customer base with minimal impact. As we saw things playing out, we all decided we wanted to come out of this crisis better and stronger than when we went into it.
We knew, for example, that we would be challenged to work in a more digital space and would need to streamline our operations through the use of digital technologies in lieu of printing, scanning, faxing and meeting face to face. Using technologies like Microsoft Teams to accomplish the same thing forced us to quickly adopt these technologies, and I believe we will stick with them as they have made us more efficient. We know we'll be a stronger, more efficient company when the crisis is over.
GOOD TO HEAR. TELL US SOMETHING WE DIDN'T KNOW ABOUT W&O?
That W&O is also a manufacturer. Over the years, we've invested in niche manufacturing opportunities where either we couldn't source quality products for our customers or there was a company that would have a strategic benefit from being part ofW&O. Our manufacturing operations are Premier, EMI and Seamless Marine Fittings.
EMI was acquired in 2015 and has a 40+ year history of designing, building and ser­vicing steering gear and alarm and monitor­ing systems for the inland marine and coastal markets. Premier was acquired in 2008 and has a 20+ year history of making piping components such as fittings, flanges and deck drains, which are installed on navy vessels around the world. Seamless Marine Fittings is our latest addition - a start-up that also makes piping system components but with a focus on high-degree-of-difficulty items used in critical service, navy vessel applications such as nuclear, SUBSAFE and Level 1.
These businesses make it possible for W&O to collaborate with our customers more closely as both a distribution oper­ation and a supply chain partner. It also makes us more effective in dealing with our OEMs as we have a greater understanding of manufacturing than if we were only a distri­bution company.
VERY INTERESTING. IS THERE ONE FINAL MESSAGE YOU'D LIKE TO LEAVE OUR READERS?
Everyone is experiencing a global disruptor right now in COVID-19, and our thoughts go out to those industries and families affected most. Virtually everything has been affected, and we've had to change our way of doing things. It's made us adopt new technologies and find different ways to keep moving forward and stay engaged with our customers.
As we've worked through this crisis we've had a theme of "Come out of this stronger than we went into it." While it's not the most catchy theme, it reflects our ongoing commit­ment to continuous improvement to be the best we can be for our employees and cus­tomers. We're very proud of how everyone in our organization has stepped up to meet this challenge head-on and enabled us to exceed what our customers expected during these trying times.